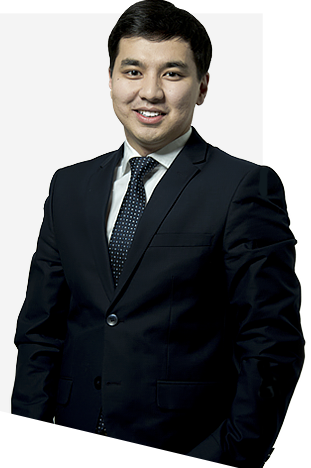 Olzhas Daniyarov
Practice area:
Corporate Law & Corporate Governance / M&A
+7 (7172) 797 707
o.daniyarov@szp.kz
apply for advice
Experience:
Olzhas joined the SZP team specialising in M&A / Corporate Law & Corporate Governance as an associate in 2015. In December 2017, he was promoted to senior associate.
Before joining Sayat Zholshy & Partners, Olzhas worked for a number of quasi-government organisations and for a major fixed assets management company.
Whilst with SZP team led by partner Arman Berdalin, Olzhas has implemented a great number of large-scale projects, for example:
The project for review and reform of Kazakhstan corporate governance framework on the assignment from the European Bank for Reconstruction and Development which required the drafting and coordination of amendments to the Kazakhstan LawOn Joint Stock Companies.
In connection with the project of International Finance Corporation for improvement of corporate governance practices in Europe and Central Asia Olzhas, as a member of a working group, reviewed a corporate governance system in a foreign-invested joint venture (a Kazakhstan-Chinese company) and provided a number of reasoned recommendations.
Olzhas also provided legal support to a client in connection with the establishment of a joint venture with a foreign investor for the management of the largest Kazakhstan overland transportation and logistics facility.
Besides, Olzhas participated in a comprehensive legal due diligence and legal advice project for a major Chinese private energy company listed by Fortune Global 500 in connection with the acquisition of interests in the authorized capital of a major Kazakhstan oil and liquefied natural gas (LNG) transportation company and the largest Kazakhstan LNG retailer.
Olzhas assisted with the development of a project for establishment of the Kazakhstan Integrated Centre for Coordination of Special Economic Zones.
Another unique project, on which Olzhas was engaged, implied the reorganisation of a Kazakhstan national company through its acquisition by a larger Kazakhstan national company.
Olzhas also advised a client on the resolution of disputes between shareholders of a foreign-invested joint venture implementing a project for construction and operation of the largest Kazakhstan energy complex.
Another legal advice project was implemented for the largest tobacco company worldwide in connection with a broad range of issues, including company restructuring and further investments in the development of the Client's subdivision in Kazakhstan.
Education:
Astana Private University (Master of Laws), 2014
L.N. Gumilyov Eurasian National University, Civil & Business Law (Bachelor of Laws), diploma magna cum laude, 2013
Languages: