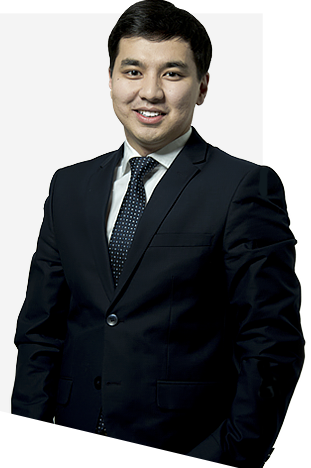 Olzhas Daniyarov
Practice area:
Corporate Law & Corporate Governance / M&A
+7 (7172) 797 707
o.daniyarov@szp.kz
apply for advice
Memberships:

Chamber of Legal Counsel (Nur-Sultan)
Experience:
Olzhas is a graduate in law who specializes in mergers and acquisitions, corporate law and corporate governance. He works as a Senior Associate in the Nur-Sultan office of Sayat Zholshy & Partners (SZP).
Prior to joining SZP in 2015, Olzhas worked as a lawyer for a quasi-government organisation engaged in finance and agriculture, and for the largest, at the time, shopping and entertainment mall in Nur-Sultan. Olzhas was among the first lawyers who actually participated in the state regulatory reforms to promote microlending in the Republic of Kazakhstan.
Whilst with SZP team led by Senior Partner Arman Berdalin, Olzhas has acted as a key specialist in a great number of large-scale projects, including, but not limited to, the following:
legal advice to a foreign investor in connection with the acquisition of a majority stake in the largest Kazakhstan transport and logistics hub the annual turnover capacity of which exceeds 200 thousand containers a year;
comprehensive legal due diligence and legal advice in connection with the acquisition of majority interests in a number of large Kazakhstan enterprises engaged in
(i) the transportation of oil and liquefied gas (rolling stock over 11,000 tank cars), and (ii) retail trade of liquefied gas;
legal advice to a major foreign investor on the acquisition of a group of Kazakhstan companies that own a number of building materials manufacturing facilities;
assistance in building up a relationship between a Kazakhstan quasi-government company and a foreign investor towards the construction and operation of a nuclear power plant in Kazakhstan;
comprehensive legal due diligence of assets and legal advice in connection with the acquisition of a major Kazakhstan brewery;
implementation of a complex project for restructuring of a national provider of information and communications services to government authorities and agencies through takeover of an affiliate;
legal advice on Kazakhstan market entry to dozens of foreign companies, including major CIS IT companies, leading international providers of cloud solutions, as well as food, oil & gas, construction and other enterprises;
legal advice on the establishment of the Kazakhstan Integrated Centre for Coordination of Special Economic Zones on the available platform of the national operator;
participation in the International Financial Corporation (IFC) projects and initiatives to improve the corporate governance framework in Central Asia;
legal advice to the European Bank for Reconstruction and Development (EBRD) in connection with their project for improvement of corporate governance practices in Kazakhstan joint stock companies;
development of a conceptual framework for the Kazakhstan national corporate governance standards; and
egal advice to a number of Clients on the incorporation and management of business in the jurisdiction of the Astana International Financial Centre.
Furthermore, in 2020, Olzhas completed a corporate finance course of the Higher School of Economics (a Russian national research university) and, in 2021, a course of the Allen & Overy Global Academy (UK).
Olzhas is a member of the expert panel called to reform the Kazakhstan limited liability partnership law. Olzhas is also actively involved in pro bono projects and is a social partner of the College of the Eurasian Humanities Institute, Nur-Sultan, Kazakhstan.
Education:
Astana Private University (Master of Laws), 2014
L.N. Gumilyov Eurasian National University, Civil & Business Law (Bachelor of Laws), diploma magna cum laude, 2013
Languages: