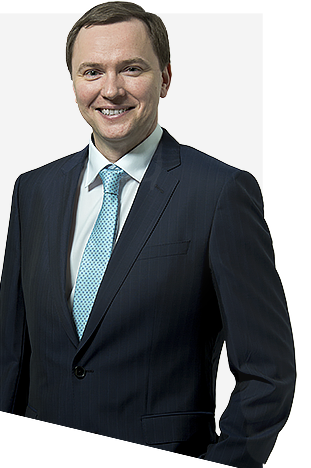 Vitaliy Vodolazkin
Senior Partner
Attorney at law
Practice area:
Dispute Resolution

Bankruptcy and Rehabilitation
+7 (727) 2222 711
vvodolazkin@szp.kz
apply for advice
Membership:
Almaty City Bar.

Oil and Gas Industry Bar Association in Kazakhstan.

Kazakhstan Bar Association (KazBar).

Kazakhstan International Court of Arbitration.
Experience:
Vitaliy Vodolazkin joined Sayat Zholshy & Partners in 2001 and was admitted to partnership in 2003. In January 2008, he assumed office of the Managing Partner.
Over the last 12 years Vitaliy has been leading the Firm's Dispute Resolution practice.
Vitaliy regularly participates in important large-scale Kazakhstan court proceedings at all levels, including representation of phosphorous producers, subsoil users, food manufacturers and other clients mainly with regard to unreasonable tax assessments. Vitaliy has represented a leading Kazakhstan bank in connection with numerous troubled projects, debt collections, protection of shareholders' interests and invalidation of various transactions. Vitaliy also represented creditors and debtors in bankruptcy proceedings, and assisted clients to appeal against actions/omissions of government authorities, etc.
The Firm's litigation practice headed by Vitaliy has been recognized, during the last 7 years, by the leading international ranking agencies as the best litigation practice in Kazakhstan.
Over the last 7 years, based on the surveys of internationally renowned guides (e.g.Legal 500 Europe, Middle East and Africa, IFLR1000, Asia Law ProfilesandChambers and Partners),Vitaliy Vodolazkin was singled out for his 'outstanding litigation guidance' and included among the leading Kazakhstan lawyers.
Apart from litigation, Vitaliy is actively involved in supporting projects implemented by financial institutions. Moreover, he has extensive experience in supporting major companies operating in food, agricultural, power, education and financial sectors.
Vitaliy has been involved in nearly all M&A projects supported by the Firm.
Considering the high level of trust between our Clients and the Firm partners, Vitaliy Vodolazkin was elected as an independent director of the Board of Directors of the largest food holding company in Kazakhstan seeking to improve the quality of its strategic decisions.
Education:
Kazakhstan National Academy of Law, Entrepreneurial Law Faculty, Diploma with honours, 2001.
Languages: